This is for you:
 3 main options for Itinerary for 3 days in Hanoi 
Ok, hesitate no more, plan your own 3 Days in Hanoi by getting a glimpse of these selected options:
OPTION 1: Hanoi 3 Days Package – Only Visiting Hanoi
DAY 1: HANOI ARRIVAL 

DAY 2: HANOI CITY TOUR WITH OUR VOLUNTEER GUIDE

DAY 3: HANOI DEPARTURE
Why it is right for you?
You only have a few days in Hanoi but you don't wanna visit far away from Hanoi, this plan is created to explore only Hanoi 

This plan will send all your 3 days to explore the city to have deep knowledge about history, culture, tradition, and people in Hanoi as the Hanoian lifestyle

If you are a food lover, this Hanoi 3 days package will be your real heaven!
>>> EXPLORE THE UNIQUE BEAUTY OF HANOI WITH Hanoi Package Tours | Hanoi 3 Days
2 journalists from Singapore visiting Temple of literature with FREE local guides from AZ local NPO
OPTION 2: Hanoi 3 Days Package With Ninh Binh Day Trip
DAY 1: HANOI ARRIVAL (B)
DAY 2: HOA LU – TAM COC( B-L)
DAY 3: HANOI DEPARTURE (B)
Why it is right for you?
You would like to get away from the busy city for the closest place and must be very nice and quiet, Ninh Binh is your right choice and it takes only 2 hours to a driver between.

Ninh Binh – Tam Coc is compared Halong Bay on land in Viet Nam with a lot of lush green limestones and peaceful countryside

You can try very good and cheap street food in the Old Quarter by walking. This is a shopping heaven where you can buy from cheap things to luxury things.
>>> GET A DETAILED ITINERARY WITH Hanoi Package Tours | Hanoi – Ninh Binh 3 Days \ 2 Nights
The enchanted landscape of Ninh Binh
Note:
With a 3 Days 2 Nights travel duration, it is recommendable to say that staying in the city for deeply discover the daily local life, as well as its culture, would be the best decision.

However, the Day trip to other destinations out of Hanoi for 1 day would be in the best condition.
OPTION 3: Hanoi 3 Days Package With Halong Day Trip
DAY 2: HALONG BAY DAY TRIP ( B-L)
DAY 3: HANOI DEPARTURE (B)
Why it is right for you?
You only have fews days in Hanoi but you still wanna visit far away Hanoi, this plan is created to explore Hanoi & Halong Bay

You don't have enough time to visit Halong by overnight cruise,but you still can enjoy and do almost activities and explore the same attractions as the overnight trip 

From Hanoi, after the unforgettable journeys to other stunning lands, you will come back to the capital city on the last day. 
>> CHECK OUT Hanoi Package Tours | Hanoi – Halong 3 Days \ 2 Nights

>> GET YOUR FREE ITINERARY WITH AZ LOCAL TRIP!
Option 1: 3 Days in Hanoi
As people said, The Old Quarter is the soul of Hanoi that the rhythm of modern life can hardly affect this area. Much of Hanoi charm lies in the Old Quarter, but sometimes you need a little local knowledge to locate them. Following the map below, you won't be lost in this "maze".
Daily time (The Old Quarter)
Destinations: Visiting Bach Ma Temple, Ancient House, Dong Xuan Market, Long Bien Bridge, Hoan Kiem Lake.
Budget: From 5 US$/pax
You can choose whether to visit all of the destinations listed on the map or just follow the route for a concise overview of the area. However, make sure you don't miss the top attractions as mentioned above.
Top attractions in Hanoi
At night (Ta Hien Street)
Exploring the Hanoi nightlife like a local

Beering, chilling and chatting with friends or locals. The Ta Hien Beer Street comes to live at about 18:00. You can grab some beer or join the nightclubs.

Budget: Form 5 US$/pax
Ta Hien beer street
Going to the main sites for 3 days Hanoi itinerary and getting to know more about the city through the now-and-then stories related to each site.
And your experiences will be more exciting with a FREE Hanoi City Tour with locals! Don't miss out!
In The Morning:
Visiting inside the Ho Chi Minh Mausoleum

Visiting Ho Chi Minh's House on Stilts

Enjoy the unique structure of One Pillar Pagoda

Budget: From 4 US$/pax for visiting. From 4 US$ for a taxi ride
The Ho Chi Minh complex – almost the Hanoi destinations just in one place
Note:
You should not bring too many belongings since the security here is quite tight.

Be ready to be queuing since this is one of the most attractive places
"Rong" house, a highlight of Museum of Ethnology
In The Afternoon: Museum of Ethnology – West Lake – Tran Quoc Pagoda
Museum of Ethnology: exploring the daily activities of each ethnic group and joining Vietnamese Traditional Games outside. (Entrance fee: 2 US$/pax). The museum is really large and has a lot of things to see. It's closing time is 17:30 and the museum doesn't close for lunchtime so you can consider spending 2 hours or less to explore all the customs of each ethnic minority of Vietnam.

West lake – Tran Quoc Pagoda: visiting the oldest Pagoda of Hanoi with Beautiful buddhas and Boddhisatvas statues inside the main temple.
Romantic view at the noon of Tran Quoc Pagoda
In The Evening
Thang Long Water Puppet Theatre: attend a water puppet show – a traditional performance of Vietnamese people. (Ticket: 100.000 – 200.000 VND). Thang Long Water Puppet Theatre opens daily at 15:00, 16:10, 17:20, 18:30 & 20:00.

Hanoi Street Food Tour: go on a Hanoi foodie adventure and taste some of the best local cuisines. Go with locals on a Free Street Food Tour to truly experience the authentic Vietnamese cuisine!
Day 3: Bat Trang Ceramics Village
As it is the last day, you should consider visiting Bat Trang pottery village which takes you morning and a haft of an afternoon, based on your departure time.
Bat Trang Village is quite far from the center of Hanoi. You should get up early and know exactly how to get there. If you prefer public transportation, catch Bus No.47 from Long Bien bus station. Here, you can make pottery on a hand-powered wheel.
Budget: from 25 US$/pax/each choice
2 US$ for a bus but it would be more complicated for first-time visitors
2 US$ for making one pottery item
5 US$ for souvenirs
2 – 3 US$ for each food or drinks
That's all for our 3 days in Hanoi for Option 1.
>> Or do you want to get your own FREE ITINERARY PLANNING? <<<
Option 2: 3 days in Hanoi (2 days in Hanoi, 1 day trip to Ninh Binh or Halong Bay)
Day 1: Explore Hanoi French Quarter
Daytime:
As the first out of 3 days in Hanoi, visit Hanoi French Quarter. Located in the South of the famous Hoan Kiem Lake, French Quarter is not as its neighbor – The Old Quarter, but it represents for the charming and elegant Hanoi.
The area houses most of the city's luxury restaurants, cafes, shopping malls and foreign embassies. Moreover, the area itself consists of lively history pieces of evidence from the French colonial period.
Make sure you don't miss these destinations: St.Joseph's Cathedral, Hoa Lo Prison, Hanoi Opera House.
French Quarter Hanoi map for tourists
After exploring Hanoi French Quarter, take a one-hour Cyclo ride around the Old Quarter after that is also a good idea for both chilling and feeling the sense of the local life here.
Spending one hour on a Cyclo Ride is never a bad decision for both further discovering Hanoi and feeling the local life.
At night:
Explore Hanoi Nightlife. You can go to Ta Hien Beer Street, stroll around Hanoi Old Quarter or have fun in nightclubs.
Day 2: Out of Hanoi (Halong Bay or Ninh Binh)
As option 2 is made for ones who want to discover further Hanoi, you should take a full day trip to Ninh Binh province or Ha Long Bay on the second day.
If you choose, here are some routes for you:
Bai Dinh – Trang An one day tour
In the morning, you will visit Bai Dinh Pagoda which is the biggest pagoda in Vietnam and holds many records.
In the afternoon, you take a boat ride in Trang An – UNESCO World Heritage Site, enjoy the beautiful scenery and serene atmosphere.
Remember to bring your camera since this is the perfect trip to take gorgeous photos.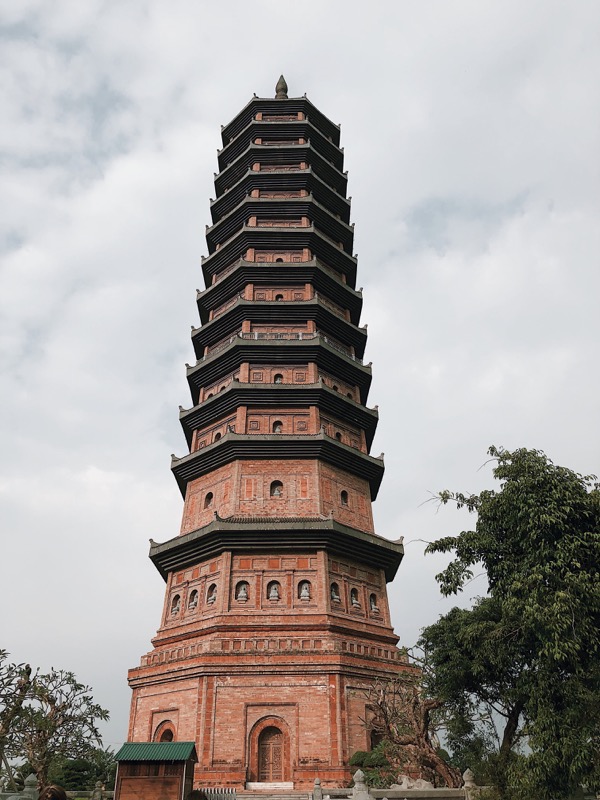 500 "La Han Buddha" statues along the hall of Bai Dinh Pagoda
In the morning, you will visit Hoa Lu Ancient Capital and King Dinh and King Le Temples.
In the afternoon, you take a boat ride in Tam Coc through Ngo Dong River. Slowly riding through the caves and majestic landscapes.
You can also try boating at Trang An and Tam Coc
Budget:
Group tour: from 50 US$/pax

Private tour: from 60 US$/pax
If you prefer Halong Bay, these are some must-go and must-do:
Board on a cruise: Explore majestic caves, such as Sung Sot (Surprise) Cave, Dau Go Cave, Trinh Nu (Virgin) Cave, Thien Cung Cave,…

Visiting fishing villages: Cong Dam Village, Cua Van Village, Vung Vieng Village, Ba Hang Village
Budget:
Group tour: from 55 US$/pax

Private tour: from 70 US$/pax

As the Halong 1 day tour included cruising so that the price depends on the criteria of your selected cruise and the number of your travel group.
Note: The limited duration could be a disadvantage if you don't know how to arrange the time carefully, especially for day trips mentioned. To make the most of Halong in just a day, check out Tips for Halong bay cruise or get your FREE Itinerary Planning by local experts.
> NOW GET YOUR FREE ITINERARY PLANNING BY LOCAL EXPERTS <<<
Day 3: Ho Chi Minh Complex, Temple of Literature
Even though it is your last day in Hanoi, make it become meaningful by visiting the mausoleum of Ho Chi Minh – the Great Father of Vietnamese people.
Here, you will get to know more about the history of Vietnam through the stories of Ho Chi Minh's life.
Statue of President Ho Chi Minh in Ho Chi Minh Museum
Ho Chi Minh Mausoleum (for visiting inside): ~ 2 US$/pax

Ho Chi Minh Museum: ~ 2 US$/pax

House on stilts: ~ 2 US$/pax

One Pillar Pagoda: free

Taxi ride (between destinations): ~ 2 US$

Temple of Literature: ~ 1.5 US$/pax
If you still confuse about the itinerary, how about get your own FREE Itinerary Planning now?
6. What to eat and drink in Hanoi by local experts
Authentic must-try dishes of Hanoi
Pho: Everyone knows Pho and Pho in Hanoi the best. This noodle soup mainly consists of beef, rice noodle, cilantro and onions, broth. Several places for the best Pho you can ever find in Hanoi are: Pho Bat Dan (49 Bat Dan Street), Pho Ly Quoc Su (10 Ly Quoc Su Street), Pho Thin (13 Lo Duc Street)
Bun Cha: Bun Cha is another cannot-be-missed dish in Hanoi. Come to Bun Cha Huong Lien or Bun Cha Obama (24 Le Van Huu Street) to enjoy the best Bun Cha.
Banh Mi: Banh Mi is just amazing. The origin of Banh Mi is from France, but the Vietnamese people modify and make their own Banh Mi. Bami Bread in 98 Hang Bac Street is one of the delicious and popular Banh Mi brand in Hanoi.
The signature dish of Hanoi -"Pho Bo"
For the drinks
Egg Coffee: You won't want to miss this drink for sure even if you're not a coffee fan. This amazing drink is unique and no one has ever shown any disappointment for this drink. You will find the best egg coffee at Giang Coffee, 39 Nguyen Huu Huan Street – the birthplace of egg coffee.
Ta Hien Beer: Ta Hien Street is the heaven for beer lovers. If you want water yourself in a world of cool beer don't forget to take a stroll along the street.
>>> Read more Where to eat in Hanoi for the best tastes!
The egg-cellent egg coffee
7. Hanoi Tourist Scams
While Hanoi is a pretty tourist-friendly destination, there are still chances of scams for tourists. These are some infamous Hanoi scams you need to be careful of.
When exchanging money, be careful of exchange rates scams. If you exchange at banks, it's not a worry. But if you exchange your money at jewelry shops, you should check the exact current exchange rates first.
Also, be aware that you may encounter a fake tour agency. These fake Vietnam Travel agencies intend to have similar names to the real ones so that tourists may go to them.
To avoid this scam, make sure you do some researches or check with Google Map to go to the exact address of the agency.
"Donuts" – one of the most scams in Hanoi
Taxi scams are also common. This scam happens when the driver asks you for a much higher price than the fixed rates after the drive.
Ensure you get in a taxi that will agree to go by the meter. Or look for reputable companies such as Mai Linh Taxi (the remarkably green cab with its name "Mai Linh" on both sides, Taxi Van Xuan (the grey cab with a blue and a red line along both sides).
Last, be careful of bag snatching. Keep your valuables in hotels and if you have to bring it with you, pay attention to it especially when going into crowded places such as markets.
Hope that this Hanoi itinerary guide is detailed enough for you to preparing tour trip in the beautiful Hanoi. If you need any helps, please feel free to contact AZ Local Trip!