If you wanna have a new and unusual journey in Vietnam, try Seaplane Halong Bay once! I can guarantee this mean of transportation is well worth your money.
Not only contemplate stunning aerial view sights over the countryside, but you will also be astonished by the thrill of the water landing. Moreover, this seaplane trip will save time to reach out to Halong Bay, UNESCO World Heritage. It means you will have more unwind, leisure time to discover the spectacular natural beauty of Halong Bay.
This article provides you with 3 different options when it comes to Seaplane Halong Bay and the information about the seaplane agency. Besides, I also weigh up the pros and cons of traveling with this means of transport
>>> For more fascinating in Halong Bay, check 28+ Things To Do In Halong Bay – Attractions & Activities!
I. Halong Bay by Seaplane – Are You Ready to Explore?
If you have rather a generous budget for a perfectly enjoyable journey in Northern Vietnam, the seaplane is especially for you.
Once in a lifetime experience with Seaplane Halong Bay
Everyone can become a passenger of seaplane Halong Bay, from adults to children and even infants. Therefore, you do not have to leave any members behind when going with your family.
If you go with your friends, it can also be an unforgettable memory for your group.
Besides, you may want to share this fantastic journey with your partner. Every couple will treasure such a romantic trip.
It will still be perfect even if you choose to go alone. Isn't it cool to get on a seaplane and enjoy all the wonderful scenery on your own?
>>> At AZ Local Trip, we provide FREE ITINERARY PLANNING. Let us help you!
II. Advantages and Disadvantages of Seaplane Tours in Halong Bay
 Benefits
Time-saving: It only takes 1 hour on the seaplane. If you have a limited amount of time to visit Halong Bay, this is certainly a perfect choice.
Convenient: The plane arrives at Tuan Chau Harbour. Therefore, it is very convenient if you take a cruise tour right after that. Seaplane Halong Bay landing at Tuan Chau Harbor Also, English speaking staff is available so that you do not have to worry about miscommunication.
Safe: The aircrew is all well-trained and experienced for every unexpected situation to ensure your security. The experienced flight crew for Seaplane Halong Bay. In addition, the agency strictly follows the safety regulations and meets all requirements from civil aviation authority.
Magnificent view: The bird's-eye view of rice paddy fields, meandering rivers and rural villages from above simply amazes you. What is more, the coolest part must be water take-off. Cool landing on the water surface from Halong Bay Seaplane
Halong Bay from above (insta: haiauavation)
Many glamorous view sights on the way

Sublime Red River Delta to the coast of Tonkin Gulf with an admirable patchwork of green fields, farms, people and cattle.
Co Loa – the oldest citadel in Vietnam, also the former capital of the Au Lac kingdom. Its foundation is in the center of Red River Delta, near the famous Thang Long 1000-year-old ancient heritage.
Luc Dau Giang – where rivers from many directions meet and also Pha Lai, the spot all the rivers join together before flowing into the Pacific Ocean, forming a striking nature amidst far-flung paddy fields.
Hai Phong City has been famous for its complex of deepwater anchorage seaports with large facilities for the maritime industry.
Tuan Chau Island, just 8 kilometers to the southwest side of Ha Long Bay, a paradise of majestic sloping hills, stretching over 2 kilometers long with white smooth sand and yellow sunshine in the summer.
Drawbacks
High price: You need to pay at least 175 US$/one way for Halong Bay seaplane. On holidays, the fare of seaplane may increase more.
A limited weight of luggage: This requirement is reasonable and we all understand that. Make sure you only pack necessary stuff into your baggage.
See more:
III. 3 available tours of Seaplane Halong Bay
1. Scheduled Hanoi to Halong Bay flight
Seaplane from Hanoi to Halong Bay Price
175 – 385 US$/one-way ticket (subject to the time)
350 US$/return ticket
Viewing Ha Long Bay through the window of the seaplane from the sky is a 100% satisfying moment
3 available routes
Scheduled Seaplane Halong Bay routes from Hanoi include:
Hanoi to Halong Bay flight by seaplane
Halong Bay to Hanoi flight by seaplane
Hanoi – Co To (Coming soon)
Fast, efficient and really memorable, this scheduled flight with Hai Au Aviation will offer you the best time in Halong Bay. Just take 45 minutes from Hanoi to Halong Bay and much more 25-minute scenic flight to contemplate the gorgeous beauty of islands. A fun bonus with thrilling water take-offs and landings is so interesting!
2. A scenic flight in Halong Bay
Departure and arrival point: Tuan Chau Marina
Duration: 25 minutes
Departing time: 10:30 am, 14:00 and 14:40
Price: 99 US$/person
Flight from Tuan Chau Maria
You already get to Halong Bay via another means of transportation. Yet, you do not want to miss the once in a lifetime opportunity to try a seaplane Halong Bay trip. Then, going on a scenic flight is the right choice for you.
Features
From the height of 150 meters, you will fly over:
Dau Be Island: among the most gorgeous limestone islands in Halong Bay. Near Lan Ha Bay estuary, beside Tra Ngu Island and Da Le Island, this is definitely an unmissable spot during the seaplane Halong Bay trip.
Cong Do Island: core area recognized as the World Natural Heritage Site with untouched beaches diverse aquatic animals and plants. With a 23.363 square meters area, it's still easy to spot some highlights like a majestic mountain reaching up to 172 meters high, or scenic lagoons here…
Bo Hon Island: the destination well-known for Sung Sot Cave, Luon Cave, Virgin, and Male Grottoes and many more, Not only attractive by striking scenery, Bo Hon gains its reputation as one of the largest islands in the area. It's home to high mountains with vertical cliffs like a citadel wall, which reflects on the sea to create a splendid picture ever.
3. Charter flight from Hanoi to Halong Bay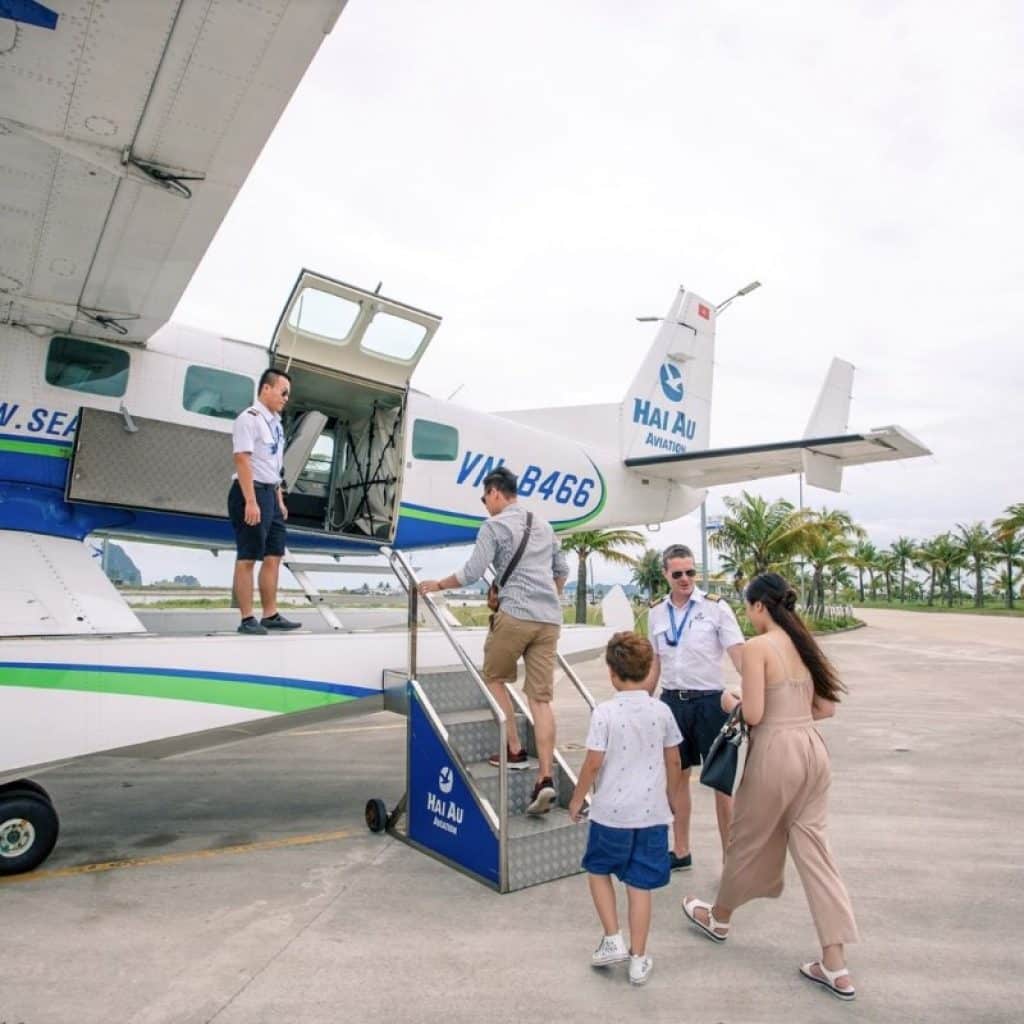 The most luxurious type of traveling by seaplane
Charter flights are the most luxurious type of traveling by seaplane. The price may go up to thousands of US$.
The premium private services take you to more than 20 fascinating destinations in Vietnam such as Halong Bay, Hue, Da Nang, Nha Trang, Phan Thiet, Can Tho, Phu Quoc, etc.
Everything is customizable from departure and arrival point to the traveling time.
IV. 3 suggested options to enjoy an affordable Sea Plane tours in Halong Bay 
1. A luxurious trip
To save the moving time, you can book the return ticket from Hanoi to Halong.
Two flights depart at 09:00 and 12:45 daily. You check-in at Counter No.10 in Lounge A from Noi Bai International Airport. The seaplane then takes off at Tuan Chau Island. The Halong – Hanoi flights depart at 11:30 and 16:00 every day.
You spend 60 minutes on each flight (including 15 minutes for sightseeing from the height of 500 to 3000 meters).
Inside Hai Au Aviation seaplane
(insta: haiauavation)
In case you want a longer stay in Halong, I recommend booking a Halong Bay cruise tour to explore the Bay for several hours and have lunch on the boat.
The total cost is approximately 735 US$ for traveling, meals, and cruise.
2. An affordable trip
To save money, you can travel from Hanoi by plane and return from Halong Bay by coach. The schedule of flights remains unchanged as the round-trip flight.
After landing, you can visit Tuan Chau Marina for numerous activities and programs. Performances of circus, dolphins, crocodiles and fountain music may catch your interest. Other outdoor activities like windsurfing, canoeing, and parachuting are also available.
Leaving Tuan Chau Harbour for exciting activities
In the late afternoon, you catch a taxi to National Highway 18 to catch the coach back to Hanoi. You may need the assistance from AZ Local Trip since catching a coach is rather complicated for foreign tourists.
The total amount is about 400 US$ for traveling cost, entrance fee to Tuan Chau Marina and meals.
3. A modest budget trip
Simply register to join a scenic flight in Halong Bay in case you do not want to overspend. You can choose to reach and leave Halong by either bus, train or coach.
This option takes more time, so you are recommended to stay at a hostel or hotel near Bai Chay overnight. The total cost is around 275 US$ for traveling, accommodation, and meals.
>>> Get a Halong Bay Day Tour with AZ Local Trip. We provide local experts that help you make the most of your time here!
V. Seaplane Halong Bay Agency and booking
zzzzzzzzzzzzzzzzzzzzzzzzzzzz
The modern seaplane of Hai Au Aviation
Traveling by seaplane has been growing in popularity among many developed nations for years. However, only after 2014 was the first seaplane service offered in Vietnam by Hai Au Seaplane Aviation.
Hai Au Aviation with Seaplane Halong Bay service
Until now, Hai Au Aviation is still the only agency providing flight service in Halong Bay.
You can directly contact Hai Au Aviation Seaplane via hotline (+84) 962 069 689, website or Facebook.
Feel free to contact us if you need any information or the FREE ITINERARY PLANNING. AZ Local Trip team is always at your service!