"How many days in Sapa?" – We've been asked this question by many foreign tourists.
While it's true that the length of your trip depends on the mode of transport you'd like to take, most people agree that 3 days and 2 nights is perfect for a trip to Sapa.
Also, if you are considering when to visit Sapa,
Reach the top of Fansipan is a must when traveling to Sapa
The Perfect Sapa Itinerary 2,3 days
What to do in Hanoi for 4 days | BEST Hanoi Itinerary 4 days 3 nights
 Why is Sapa worth visiting? Know before decide how many days in Sapa Vietnam? 
what is Sapa Vietnam ?
Sa Pa is a small hill station town in Northern Vietnam close to the border of China. It's best known for the terraced rice fields that cover the Muong Hoa Valley which is located between SaPa town and Fansipan Mountain, the tallest peak in all of Vietnam.
The town is gorgeously picturesque with buildings inspired by French architecture, local tribes selling handmade goods on the streets, and delicious local cuisine. You can also indulge in luxurious, yet affordable, spa treatments and trek through the rice fields with members of the Hmong tribe, an ethnic minority group that makes up about 50% of the local population.
Sa Pa is an "oasis" – a peace place outside of the bustling cities of Hanoi and distance sapa hanoi is 315 km,.Sapa has become a popular tourist destination in recent years due to its natural beauty and unique cultural heritage. Visitors can enjoy trekking, homestays with local families, and exploring the town's markets and street food. As John Steinbeck once said, "people don't take trips, trips take people". Sa Pa will take you on an adventure you will never forget.
Who wouldn't fall in love with this beauty?
Why is Sapa
sapa worth visiting? 
Sapa is worth visiting for several reasons, including:
Natural beauty: Sapa is surrounded by stunning natural landscapes, including rice terraces, mountains, and valleys. The scenery is particularly beautiful during the rice harvest season when the terraces turn golden.
Cultural diversity: Sapa is home to several ethnic minorities, each with their own unique culture and traditions. Visitors can learn about their way of life, visit local markets, and even stay with a local family to experience their daily routine.
Trekking: Sapa offers some of the best trekking opportunities in Vietnam. There are several trekking routes to choose from, ranging from easy to challenging, and all offering stunning views of the surrounding countryside.
Climate: Sapa has a cool climate all year round, making it a great escape from the heat and humidity of other parts of Vietnam. The temperature rarely exceeds 25°C, and it can get quite chilly at night, so it's a good idea to bring warm clothing.
Adventure activities: In addition to trekking, visitors to Sapa can also enjoy other adventure activities such as mountain biking, rock climbing, and zip-lining.
Overall, Sapa is a unique and beautiful destination that offers a combination of natural beauty, cultural diversity, and adventure activities, making it a great choice for travelers looking for an off-the-beaten-track experience in Vietnam.
Recommended schedule – How many days to spend in Sapa Vietnam    
Here is an example of a common schedule (sapa itinerary) that tourists tend to arrange for themselves
>>> You can also have your own FREE ITINERARY by our local experts here!<<<
Day 1: HANOI – SAPA – SHORT TREK TO Y LINH HO – LAO CHAI – TA VAN
Travel by bus to Sapa in the morning
In the afternoon: Have lunch with local food;  A short drive to Y Linh Ho then trek through the rice terraces and along Muong Hoa Stream to the Black Hmong village of Lao Chai to see the spectacular landscape of Hoang Lien Son Mountain. You approach Ta Van village where Dzay Ethnic People inhabits in the late afternoon.
Trekking distance is about 9 kilometers and it lasts for 3.5 hours
Trek through the rice terraces to get closer to this beautiful place and its people
Check-in homestay; get to know the family of Dzay People. Spend time to enjoy the mountain life on Sunset. You may attend cooking local dishes with the family and enjoy dinner in peace.
In the evening, you can join the local bar nearby with music and socialize with other tourists then overnight at homestay or free at leisure
DAY 2: TREKKING TO TA VAN – GIANG TA CHAI VILLAGE – SAPA 
Have breakfast prepared by the local family
Keep walking to the rice paddies where you have a nice photo session of the amazing surrounding landscapes; a trek through the bamboo forest; stop to have a panorama view of Giang Ta Chai village – home of red Dzao People.
Have lunch
Visit Cat Cat village which is home of Black H' mong ethnic people and is located near the bottom of a deep valley at the foot of Fansipan Peak and explore the daily life activities of the locals, trek down to the valley bottom to the waterfall where the French built a Hydraulic Power Station, stop for photo with bridge and waterfall
Dinner
Nestled in a beautiful valley about three kilometers from Sapa Town, Cat Cat- the old village of ethnic groups- attracts tourists from all over the world for its distinctive customs and practices which have been lost in almost ethnic villages. The village is within easy walking distance from any hotel in downtown Sapa.
Take the chance to have a glimpse into the local ethnic people's life
Cat Cat Village gives tourists a chance to have a glimpse into the daily life of local ethnic people, as well as take part in traditional activities such as weaving fabric. It is also a good opportunity to purchase some traditional souvenirs and handicrafts right from the craftsmen. People can also try some local food selling the way upcoming to the hill.
In addition, the road leading to Cat Cat Village is an easy and interesting route for trekking. The spot is only within 20-30m minutes walking from Sapa center; and the hike through mountains will offer tourists the wonderful picture of rice paddies, waterfall, or even water buffaloes grazing leisurely.
DAY 3: BAC HA MARKET & TRUNG DO VILLAGE
Located about 76 kilometers from the train station, Bac Ha is a remote district of Lao Cai province. Bac Ha market, organized every Sunday is famous for its originality and authenticity that the traders still preserve.
To approach the market, many ethnic groups have to walk long distances passing mountains and hills. Yet the distance has never discouraged them from joining the Sunday colorful market.
These are the perfect gifts for family and friends
The main square where trading takes place is divided into smaller section, specializing in a particular product such as handicrafts, food, horse, poultry and blacksmith. Each has its own trait and worth joining. It is not simply a place for buy and sell but also an opportunity for people from different ethnicities to come and meet, for women to demonstrate their beautiful handmade traditional costumes and even for youngsters to find their dates.
You want a relaxing place to get away from the tourist crowd in Sapa, or simply fond of taking unique photos, Bac Ha can be your option. It is worth investing in the road is curvy and challenging, even after significant improvement.
Visit Silver Waterfall or Love Waterfall
Lying beside National Highway No 4D, Silver waterfall is about 12 kilometers from Sapa Town's center. Thanks to the water source from the Lo Sui Tong mountain peak, this beautiful waterfall is formed. Seen from afar, the waterfall is like a white dragon looking down from the sky.
You can travel to the Silver Waterfall by motorbike or by car for half an hour. It is worth to stop by to admire the stunning view of some spectacular mountains and the forests in Hoang Lien National Park.
Located in San Sa Ho Commune with 4 kilometers to the Northwest of Sapa Town, Love Waterfall deserves to be a must-see in this allured town.
Traveling on a soil road of fragrant flower on the two sides of it to the fall, tourists might be more and more curious about how beautiful the waterfall is. From far sight, Love Waterfall looks like a sparkling stream of light.
Is it a stream of light or water?
It has a height of about 100 meters, and starts from the peak of Fansipan Mountain and rush noisily into the Gold Stream like a never-ending song. Under the waterfall, the Gold Stream runs along with green grass plots and bamboo clusters, forming a poetic image. The stream flows to the forest endlessly, to some places that only passionate people dare to venture into.
If you're visiting Ta Phin village within the Sapa area in the early weeks of spring, you'll be privy to one of the most beautiful traditions of the hill tribe people: church singing. Both locals and visitors throughout the area flock to the Ta Phin commune to watch this ancient wedding tradition and listen to the singing of the people.
Sapa Stone Church in daily life
Most small tribal villages still base unions on pre-arranged relationships; during the church singing, the young grooms and brides-to-be are involved in a prominent procession making its way through the village while the young men and women proceed to sing and dance in an ongoing competition, vying to attract a partner of high esteem and fulfilling spiritual needs.
The clothing is most definitely fantastic, a sight in itself, with vibrant, ethnic fabrics (woven and dyed by local women) spun into beautiful outfits
The schedule above is just one of many options of itineraries and activities that you can include in your plan. If you're an avid trekker, you can spend 2 days in a row trekking.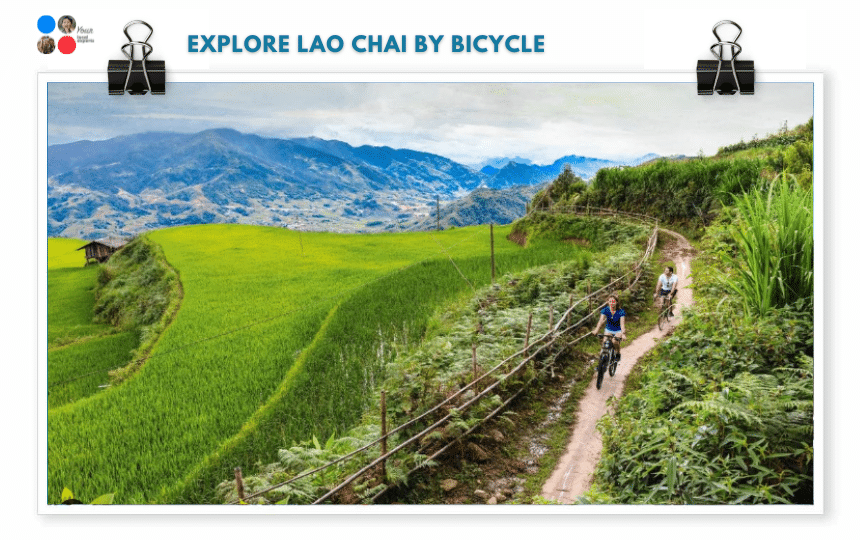 Sapa vietnam guide – Tips and notes
There are several things to keep in mind to ensure you make the most of your trip. Here are some tips:
Research the area: Sapa is a large area with many different trekking routes, villages, and attractions. Do some research beforehand to decide which areas you want to visit and what activities you want to do.
Book a local guide: It's highly recommended to book a local guide who knows the area well and can take you on the best trekking routes and show you the hidden gems. A guide can also help you learn more about the local culture and traditions.
Plan for the weather: Sapa can be quite unpredictable when it comes to weather, so it's important to plan accordingly. Bring warm clothing for the cooler temperatures, and rain gear in case of unexpected showers.
Pace yourself: Sapa is a mountainous area, so it's important to pace yourself and take breaks as needed to avoid exhaustion. Make sure to include plenty of rest stops and time to relax in your itinerary.
Experience local culture: Sapa is home to several ethnic minority groups, each with their own unique culture and traditions. Make sure to include some time in your itinerary to experience local culture, such as visiting markets, attending a local festival, or trying traditional food.
Before your tour, make sure to prepare the following:
Pack appropriate clothing: As mentioned earlier, bring warm clothing and rain gear, as the weather can be unpredictable in Sapa.
Bring appropriate footwear: Make sure to bring comfortable and sturdy shoes or boots for trekking.
Stay hydrated: Bring a reusable water bottle and remember to drink plenty of water to stay hydrated during your trip.
Best place to stay in sapa vietnam