If you are beginning your search for Hanoi tour operators, this list is a good place to start. There are hundreds of tour operators in Hanoi with new agencies springing up each year.
This list includes some of the most well-established and reputable travel companies. The agencies featured here also offer completely customized, bespoke trips. In some cases, these might closely mirror catalog itineraries but with departure dates that are up to you, and no unknown "colleagues".
In this article, I would like to weigh in on visitors' travel experiences on review sites and also mine to help you deal with this trickiest part of planning a trip abroad. For a more comprehensive guide to planning a trip to Hanoi, read our Detailed Preparations For A Trip To Vietnam
See more:
7 Best Hanoi Travel Agency – Which is the BEST one?
2020 | Most Rated Ninh Binh Travel Agency & Tips of Traveling Beyond
List of 9 Halong Bay Travel Agency 2019
List 21 Best Vietnam Travel Agency and Tips to choose
[lwptoc]
AZ Local Trip – Free Itinerary Planning
AZ Local Trip is the top.1 Travel Company in Hanoi offering tailor-made tours to Hanoi, Halong, Sapa, Ninh Binh, and other destinations in Vietnam. It is very useful to contact AZ Local Trip to ask for the Itinerary Planning (It's free by the way), then the travel consultants will advise you on Detailed Itinerary recommendation including the reasonable price.
"Awesome", "Amazing" and "Engaging" are the words that are frequently used by foreign visitors to describe the tours organized by AZ Local Trip. 
Founded by Khai Pham, a young entrepreneur who has 5 years of experience in operating tours around Hanoi, AZ Local Trip will take you to the hidden spots, introduce you to the locals and give you a true experience in this capital city of Vietnam.
AZlocaltrip has many choices for you on their interesting and modern website. Go check it out!
Traveling with AZ Local Trip, you are guaranteed to get a sense of the culture and return home with unforgettable memories.
As everyone has their own unique travel style, they work with you 24/7 to create a personalized itinerary that suits your taste. Whatever you need, just contact Jenny or Daisy, their professional staff, and your problem will be solved right away!
Information
V'Spirit Cruises 2394
V'Spirit Cruises provides an outstanding service for visitors who go to Halong Bay
Since its inception in 2012, V'Spirit has held true to its original commitment of taking the very best aspects of classic, comfortable cruising and updating them to reflect current lifestyles.
What sets V'Spirit apart from other vacation choices is its passionate dedication to providing guests with a cruise experience that exceeds expectations.
Their wooden junks are designed in the time-honored traditional style, but with contemporary, deluxe cabins and facilities, including sea-view windows in each cabin, private, modern bathrooms, and a comfortable sundeck bar.
The word "V'Spirit" actually means "Vietnamese Spirit", and their goal is to help visitors experience that feeling which is part of Vietnamese daily lives. Their cooks will serve you the tastiest traditional Vietnamese foods, and their staff will help you learn about our current lives as well as our ancient history.
Hoang, whose name has appeared in several positive reviews of V'Spirit on some travel sites, is my friend. When I asked him about his secret to charm visitors, he just laughed and said that he just treats others the way he wants to be treated.
Information
Address: 115/4, Hong Ha Street, Ba Dinh District, Hanoi, Vietnam
Website: http://www.vspiritcruises.com
Phone: + 84 4 3247 4488
Fax: + 84 4 3247 4456
Email: sales@vspiritcruises.com
Vietnam Awesome Travel
Vietnam Awesome Travel is one of the best Hanoi tour operators that provide a home cooking class
Being a local operator for 8 years, Vietnam Awesome Travel specializes in all private & customized tours. Furthermore, they also combine some group – joining tours for independent travelers who look for budget services in Vietnam, Laos, and Cambodia.
Their cooking class has received glowing reviews on TripAdvisor. A Home Cooking Class with Vietnam Awesome Travel takes one of the very best parts of Vietnam (the food) and makes it into a perfect day's activity, where you can learn, laugh, cook and, most importantly, eat.
This authentic adventure involves cycling to a local market to barter for food, preparing and cooking the Vietnamese food and then settling down to enjoy your creations.
Learning how to cook traditional Vietnamese dishes is not as difficult as you might think
Information
Address: 64 Nguyen Huu Huan, Old Quarter Hanoi
Website: http://vietnamawesometravel.com
Phone: (84) 97 717 4953
Fax: (84) 3990 1733
Hotline: (84) 904 123 217 or 0968 123 217
Email: guest@vietnamawesometravel.com
Vietnam Unique Tours (1039)
Vietnam Unique Tours has offices in Hanoi, Ho Chi Minh city and along with many trusted partners on behalf of their company around Vietnam with locals and expatriates who have a passion for their land and for travel. This invaluable local knowledge enables them to recommend the best places on your tailor-made Vietnam & Asia tour.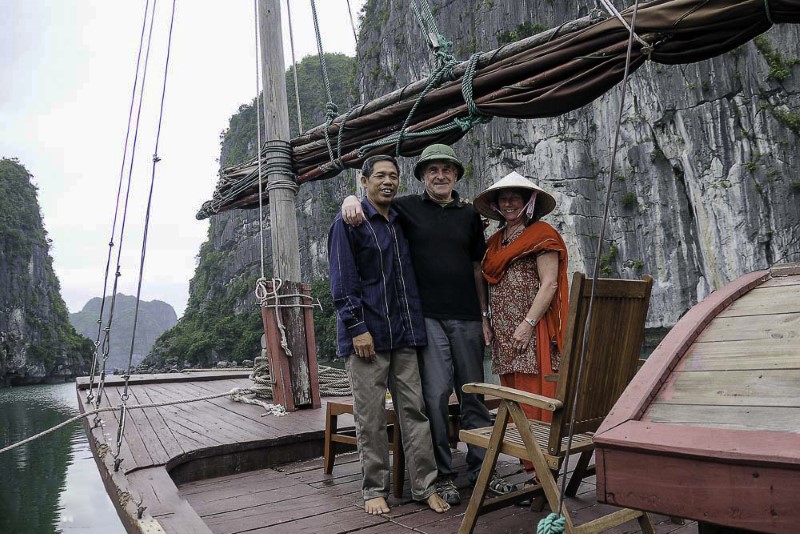 This tour operator also provides a wide variety of travel services, including fly & drive tours, group tours, custom tours, guided tours, airline tickets, train tickets, hotel bookings, car and coach rentals, and any other related services you might need.
Information
Address: 26c/173 Hoang Hoa Tham St, Ba Dinh district, Hanoi, Vietnam
Website: https://www.vietnamuniquetours.com/
Phone: +84 24 39271992
Hotline: +84 966 966 515
Email: info@vietnamuniquetours.com
Apricot Cruise (934)
Apricot launched their first vessel in 2014. However, the foundations of the company were laid a few years ahead with the building of the bridge linking Tuan Chau Island to the mainland and the ensuing possibility to bring passengers to a private pier, a service never yet offered by cruise companies of Halong Bay.
The concept of the company came along, to offer a unique cruising experience in the World Heritage site, blending Vietnamese traditions and multi-faceted culture with the highest standards of hospitality worthy of world-class grand hotels and, thanks to visionary ideas and unequaled customer services, standing out among the four or five hundred boats sailing across the bay every day.
Inside the luxurious Apricot Cruise – Best Hanoi Tour Operators
Traditional architecture yet the modern of The Apricot Cruises bring you the cultural experience of the local Vietnamese during your trip. Upon arrival, the guest will be escort and guide to the ship by the cruise manager and team of the crew on a traditional costume of Vietnam. The dining venue on board brings you the taste of local Vietnamese luxury's cuisine.
The cabins were designed by royal wooden furniture and hand made locally which symbolized as a luxurious cruise.
Guest will experience the unique method of squid fishing during night time while cooking class in the evening is one of the cruise highlights. Guest will learn some local traditional dishes and a culture talk during the ceremony.
Stretching and exercising on an amazing cruise at Ha Long Bay is a relaxing experience you will never forget
Note: In this July, when I went on a cruise of Apricot Cruises, there was no Wifi on boat. I'm not sure whether they have Wifi capacity now or not. If you don't mind using 3G, it's fine.
Information
Address: 34/131 Hong Ha Street, Ba Dinh, Ha Noi
Website: https://apricotcruises.com/
Tel: 84 4 3655 5666 – 3311 1888
WhatsApp: +841642775093
Hotline: Ms. Chi (Vietnamese speaker): +84 985734610 / Mr. David (English speaker): +841642775093
Email: info@apricotcruises.com
>>> Are you ready to explore Hanoi now? <<<
Travel Agent Hanoi
Backpackers off on their Halong Bay trip with Travel Agent Hanoi – Best Hanoi Tour Operators
Travel Agent Hanoi is a family business run by Ngat and her husband Simon from England. It's also a leading Hanoi tour operator & Vietnam travel agency for a Vietnam package holiday, specializing in providing top quality transfers, tours and hotels throughout your stay in Vietnam.
The owners of Travel Agent Hanoi and their staff were not only service-oriented and knowledgeable but also make your booking simple.
With the details you give them and your budget Ngat and Simon will come up with a great holiday itinerary covering the main highlights of Vietnam from North to South. They go out of their way to accommodate your requests.
Information
Address: 268 Ngoc Thuy, Long Bien, Hanoi
Website: https://travelagenthanoi.com/
Phone: +84(0)395434729
Email: booking@travelagenthanoi.com
Vietnam Adventure Tours 4187 – Best Hanoi Tour Operators
Headquartered in Ho Chi Minh City, Vietnam Adventure Tours has served more than 3.800.000 travelers from, Australia, North America, France, Germany, Italy, Japan, Korean, Chinese, Hong Kong, Singapore, and the rest from other European countries for 10 years. They have also served a lot of Muslim travelers from around the world.
Their goal is to provide customers with luxury, unique and authentic services and tours that exemplify Asia and its culture. They offer unique, culturally immersive tours of Viet Nam on a daily basis. New exciting team building exercises designed for corporate clientele are also offered.
Although most of their tours are in Southern Vietnam, Vietnam Adventure Tours is highly recommended for those who are looking for a luxury long haul trip to Vietnam. Their Hanoi – Halong – Sapa – Sai Gon tour package is often booked by tourists having 12 days in Vietnam.
Savoring delicious seafood and traditional Vietnamese food on a cruise
Information
Address: 123 Ly Tu Trong, Ben Thanh Ward, Dist 1, Ho Chi Minh City, Vietnam
Website: http://www.vietnamadventuretours.vn/
Phone: +84 283 822 9068
Hotline: +84 283 822 9069
Email: booking@vietnamadventuretours.vn
Hanoi Free Local Tours
Young and enthusiastic Vietnamese students will keep you company in our free tours
Hanoi Free Local Tours is a local company that has 5 years experience in operating Free Tours in Hanoi with more than 300 guides. Unlike the Hanoi tour operators aforementioned, Hanoi Free Local Tours also employs young students who are historical and cultural enthusiasts.
For all the insider tips, local secrets and travel hack the internet has been able to reveal to the average internet-savvy travelers, there really is nothing quite as powerful as spending time with an actual local to get a real foothold on a new city. Hanoi Free Local Tours is a fantastic organization which provides this very opportunity with any visitor to Hanoi willing to take a chance.
The tours are a 'pay what you want' type of itinerary (with nothing going to the tour guide, if you try to tip they WILL refuse the money as is the policy of the organization). If you want to hit the museums and temples that cost money, you're welcome to. If you want to stick to a truly no-money kind of experience and just walk around the city, you can do that too.
Information
That's the best tour operator in Hanoi under professional perspective. If you want to find out more about other Hanoi Tour Operators, feel free to contact us!