Floating fishing villages are typical places of interest in Halong Bay that allure a host of tourists. The Floating Fishing Village is considered one of the most places of interest in beautiful Halong Bay. Based on most foreign tourists to Halong, of all activities held in this bay, the one drawing a lot of attention of tourists is an intriguing visit to floating fishing villages.
Romantic panoramic view of Halong Bay
[lwptoc]
How to get access to Halong Fishing Village?
To visit floating fishing villages, visitors can choose lots of tour packages such as Halong Bay 3 days 2 nights and 2 days 1 night Halong Bay that almost all include the activity of visiting these places.
Another option for tourists is that you can choose famous cruises on Halong Bay which often pass by one of Halong floating fishing villages. Junks and cruises often stop in one floating village as one of the attractive destinations in the voyage.
During the cruise, there is a short break at a fishing village, a wonderful chance for tourists to take a glance into the daily life of fishermen here and gain more understanding about their life.
When you reach to these fishing villages, some local residents will come to pick you up with their little sampans. If you desire to have a more profound sight on the routine life as well as the unique cultural beauty of these villages, you are free to ask for information and experience from your companions.
>>>28+ BEST Things To Do In Halong Bay Vietnam – Attractions & Activities
Floating Fishing Villages in Halong Bay That You Shouldn't Miss
There are many fishing locations for you to choose, but below is the list which contains the most celebrated fishing villages in the World Heritage Site. This list is based on my personal experience and perspective and many inhabitants' one as well.
1. Ba Hang floating village – an idyllic village
For those who are keen on enjoying the tranquil atmosphere and many magnificent fishing boats, Ba Hang fishing village is definitely your priority.
Located along the Bay with touching of Thien Cung marvelous cave, the idyllic fishing village consists of approximate households. In recent years, with the development of tourism and tourist services, this village board up to take care of tourists and a large number of households have served in tourism.
Thien Cung Cave, an incredibly marvelous destination in Ha Long Bay
Visiting Ba Hang Village, tourists will have a chance to explore the local life in this fishing village that is hard to find a similar one. This village is known as home to many generations and especially, instead of leaving to other places, the young will stay here to support their family.
Their daily lives are closely associated with the rising and falling of the tides. It creates a true marine world with its unique beauty of locals' lives.
During the voyage, visitors will come to a surprise when witnessing a simplicity of life in the village. The family members in this fishing village just live together in a house which are only about 5-10 square meters wide and household accommodation and facilities are all simple.
You will be surprised by the simplicity of life in Ba Hang fishing village
Besides learning about the life of the local fisherman, tourists are also attracted by amazing activities. Tourists will not only seek a chance to enjoy fresh appetizing seafood but also watch impressive folksong performance such as "hat gheo" or "hat cheo duong" in the peaceful atmosphere of the fishing village.
Visitors can also purchase drying products and hand-made artifacts from local people as souvenirs for friends and family.
You could easily transfer to the floating village by cruise tour daily. In this cruise tour, you could both visit floating village and partake in water activities: swimming, kayaking, and diving.
>>> Visit Ba Hang village with Halong Bay Day Tour 
2. Cua Van fishing village – an ideal place for all kinds of ships anchor
Located at Hung Thang Commune, Halong City, Cua Van fishing village is 20 kilometers far away from the tourist boat wharf, which includes a population of 733 in 176 households with their main career known as fishing.
Different from Ba Hang fishing village, Cua Van village has spacious and clean floating houses. Some wealthy families even have tiled roof houses with radios, television sets, tables and chairs.
Annually, the village organizes many training courses for their children. Over an area of 150m2 lies four classrooms and one small room for teachers. They are known as the prominent floating classrooms in Halong Bay.
Coming to Cua Van villages, visitors easily be attracted by the beauty of the boats, the nets doorstep bamboo beans, escrow houses tied together against the storm, the casual fisherman, but very naive the hospitality, the black child dark skin with their innocent smiles.
Bamboo Rowing Boat is an intriguing activity in Halong Bay cruise tour. When night falls, visitors will be sailing around the village to visit, and fishermen pulled nets and offshore squid.
Guests also hear singing teaser performed by local fisherman and rowing street theater – an oratorio form with many folk songs endemism Bay area.
>>> Get the Halong FREE ITINERARY PLANNING that customized for you <<<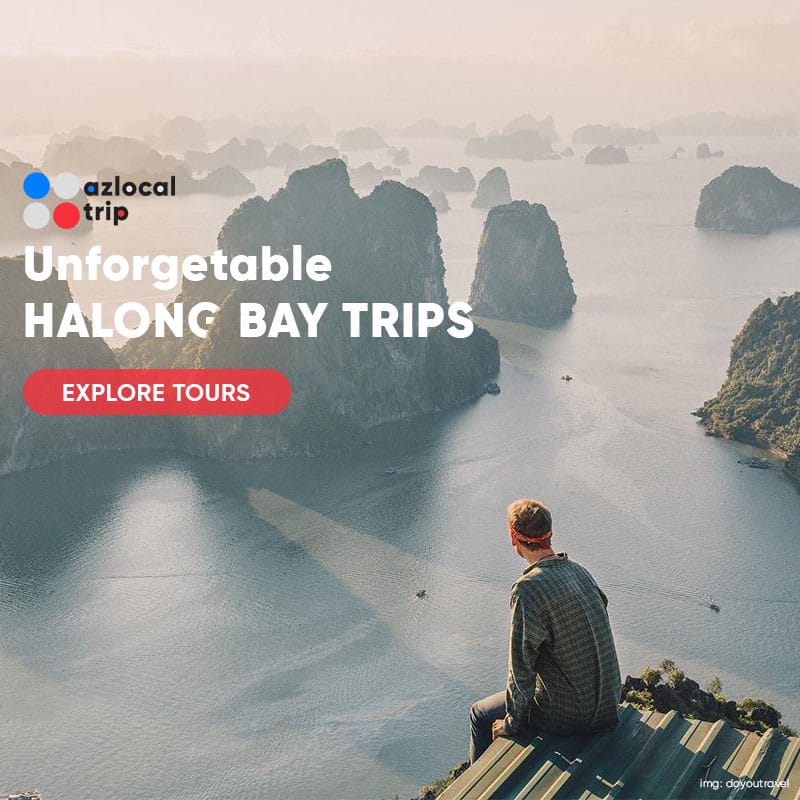 3. Vung Vieng Fishing Village – a poor village filled with innocent smiles of kids
Bai Tu Long and the Vung Vieng Fishing Village is off the beaten tourist track because of its far distance to the popular Cat Ba Island which has lodging, beaches, and nearby famous caves.
Vung Vieng fishing village only includes about 50 families with a population between 200 and 300 residents. A one-third population is children and their presence livens up the tranquil fishing life. Vung Vieng inhabitant has started their lives in coexistence with waves and tides on the sea and has lived in this village for generations.
This is a floating life without a single concern about how much the house rental fee fluctuates.
If you happen to come to Vung Vieng village at night, you can sit on woven bamboo boats beside the crackling fire, listening to folk song duets, dropping flower garlands and colored lanterns for luck and observing the locals' work under the majestic moonlight.
Besides, tourists can also drop some notebooks, pens to donate for the poor children in the village.
Other recommended things to do in Halong Bay
4. Cong Dam fishing village – an outdoor geological museum in the beach
Cong Dam fishing village is also located on Bai Tu Long bay and far from the mainland. Therefore, the number of visitors to Cong Dam fishing village is rather low, and the sceneries there has still remained primitive beauty and the cool fresh environment.
The special feature of this village is plenty of mountains formed by a stack of a huge rock and pristine coral reefs. Additionally, surrounding Cong Dam villages are many different islets and wonderful beaches full of white smooth sand and blue waters including Tra Gioi, Cay Bang, and Cat Oan beaches. Tra Gio beach near to Cong Dam village, an ideal place for swimming
About locals' space of life of Cong Dam inhabitants, Cong Dam is relatively small with a population of 120 people. The residents here still maintain their traditional fishing culture.
Visiting Cong Dam village, tourists can explore the lifestyle of locals as well as their customs and traditions. You can have a chance to gossip with friendly local people, hear them talk about their memories of life and how they deal with huge storms.
In addition, they can also participate in many interesting activities such as rowing boat or kayaking to discover mysterious caves or enjoy dreaming beaches nearby. If you are in favor of environment preservation, do not miss to go fishing or grow trees with local people!
>>> Hanoi – Halong Bay 4 Days Tour would be a great combination <<<
5. Cap La fishing village
Cap La fishing village has a middle location between Bai Tu Long and Halong Bay. The village contains only 80 households with more than 200 people, almost all of whom has economic disadvantages and make ends meet mainly by fishing.
The poor children here merely go to school until they are 12 years old, then they drop out to work as a fisherman.
As tourism doesn't develop much, visitors coming here can enjoy the unexplored beauty with plenty of coral reefs, underground limestone, and underwater caves.
Visitors also can join catching fish with locals here, talking to them about the daily activities. Particularly, it is very kind to give young children meaningful presents and gifts.
Halong Bay Floating Villages is actually a must come destination of Ha Long Bay and the S-shaped country, as well.
If you want further information, don't hesitate to contact AZ Local Trip to join hands in creating unforgettable experiences.