It's great that you choose Vietnam, and Halong Bay, to be your next destination. But are you in a rush or have a low-end budget on visiting this wonder of the world? Well, then you can choose the one day cruise to explore Halong Bay. It saves time and money and you can still enjoy everything on board.
However, it is not easy to choose a good cruise, you can get yourself into a scam if you are not careful enough. So here are some tips and tricks of what to keep in mind while booking your Halong Bay one day cruise.
Let see an overview video of Halong Bay one day cruise
See more:
2019 | Halong Bay Cruise – 5 Big Tips for Better Cruise at Lower Price
Halong Bay Luxury Cruise & How To Choose The BEST one!
Cat Ba Cruise &Tips to Choose an Awesome Cruise
Halong Bay Party Cruise – Let's Have Fun On Board!
Inexpensive Halong Bay Backpackers Cruise &Tips for Solo Travellers
2019 | How to Choose a Bai Tu Long Bay Cruise
>>> Contact us for this one day cruise tour <<<
What do you expect in Halong Bay 1 Day Cruise?
Halong Bay literally means "Descending Dragon". Nowadays, being a tourist hotspot, Halong Bay welcomes more than 6 million tourists annually. This is an ideal place for energetic people because there are a lot of outdoor activities provided here, such as climbing, trekking, kayaking, or even yoga sessions on the beach.
It is estimated that there are about 1969 limestone pillars, hundreds of islands and a certain number of large marine caves in Halong Bay. the Dau Go Cave is the largest cave among all, it was once known as the Grotte des Merveilles. Meanwhile, the biggest islands are Cat Ba Island and Tuan Chau Island, also are tourist destinations in this area.
The grand and impressive Halong Bay will charm your heart right away
It is obvious that you can explore every corner of Halong Bay just in one single day, so you'd better prepare yourself and have a good plan. You have to pick out a cruise with a great itinerary, suitable cost and range of activities (that we would later recommend in this article).
Furthermore, some activities can be crossed out of the list, for example, swimming, especially in the winter and midnight squid fishing is a no for one day cruise.
One day Halong Bay cruises can vary slightly in condition, as well as itinerary. We recommend that you do some research and book in advance with the tour operators to get the best deal, best vessel and best experience.
You should read the review and look through the itinerary to get the best pick for you. Don't choose the dreamlike and suspiciously cheap tour, because it sounds a lot like a scam.
>>> Check out Big Tips for Better Cruise at Lower Price and List of Halong Bay Travel Agency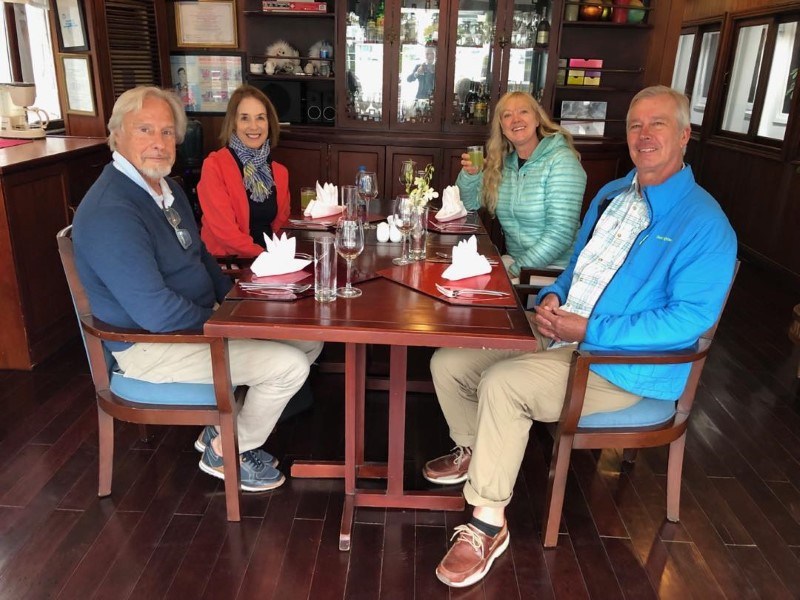 Having a great time on board with your families and friends
When to visit on a One Day Cruise Halong Bay?
Weather can make or break your trip totally. First, let's see when is the best time for us to visit Halong Bay:
You can read more about it Best Time To Go To Halong Bay – Recommendation From Local View!
In the Spring (from February to April), it will be warm, dry and the sea will be calm so this is the best time in the year to visit Halong Bay. However, the drawback of spring is that the number of visitors will be huge and it tends to get crowded at this time of the year.
In the Summer (from May to August), it's hot and humid. The high temperature can make you sweat a lot, but the sunny weather is suitable for swimming, kayaking and other watersports. However, sometimes it gets rainy heavily and even stormy. Cruise trip can be canceled if there is a storm, so make sure you follow on the weather forecast.
In the Autumn (from September to November), the weather will be cool and windy. However, the sea can get rough often as storms approaching the Vietnamese coastal provinces. It will be fewer travelers at this time of the year. You can still consider going in autumn if the weather is good enough.
Lastly, in the Winter ( from December to January), it gets freezing cold at some point, heavily cloudy and continuously rainy, not the very best time to swimming in Halong Bay.
Things to consider when choosing a Halong Bay One Day Cruise
Prepare your budget
Let's choose your one day Halong Bay cruise based on your budget, you don't have to strain your finance to get a good experience in Vietnam. Typically, a Halong Bay tour package price ranges from 30 US$ to over 300 US$ per pax depending on the length of the trip and the service.
A day tour in Halong Bay will cost you normally approximately 30 – 50 US$ per person. This kind of tour package will provide you with the basic itinerary, including accommodation, activity fee and food.
Food and meal are often included in the itinerary
What is included in and excluded from the itinerary?
You should pay your attention to the itinerary. In the itinerary, you will see what is included – meals, transportation, accommodation, activities – and what is excluded or you have to pay extra – more often than not, drinks. You should ask if there are any additional cost and fee can be added along the trip to secure your money.
Also, you can have a rough idea of what the trip will be like, and they can prepare thing accordingly.
Attending a cooking class on cruise is the best way to know more about Vietnamese cuisine
Furthermore, double check the activity lists to see anything that you may interest in. Some of the popular activities in Halong Bay tour package are visiting the pearl farm, visiting the floating village, swimming, exploring caves, sightseeing and taking a cooking class. Remember that your time is limited, so you should only choose the activities that appeal you most.
>>> Get a FREE ITINERARY that speaks to you the most <<<
Recommendation for top-notch Halong Bay Cruise 1 Day
It is really hard to find a trustworthy agency operating Halong Bay one day cruise tours without any information and suggestion, so here is the list of worth-trying agencies to help you make your trips great and exciting:
AZ Local Trip a local tourist agency with the main purpose of assisting tourists in planning itinerary and offering services for tourists such as Tours, Hotels, Cruise and Transportation. The ultimate aim of the agency is to bring foreign tourists a better view of our country.
AZ Local Trip's guides are well-educated, professional and passionate about Vietnam and its people. We offer excellent service at a reasonable price and specialized in Northern Vietnam tours.
Having a great time in Halong Bay with AZ Local Trip team!
We offer Halong Bay one day cruise tours with depart to both three bays in Quang Ninh: Halong Bay, Lan Ha Bay and Bai Tu Long Bay with a really reasonable starting price 37 US$ per pax.
Generally, our one day Halong Bay Cruise tour will bring you to the nature to see the magnificent caves, landscapes and other interesting destinations such as the fishing village, allow you to immerse yourself with kayaking and swimming, taking a lass to learn about Vietnamese cuisine and relax by watching the dawn on board.
We also provide a free itinerary and online and offline support for you during your trip. So, don't hesitate to contact us now!
Alova Cruise is specifically designed for couple, families and small groups of travelers with the rather small but cozy space. A standard itinerary on Alova Day cruise will start from 7:45 am when shuttle bus picks you up from your hotel and end at 8:30 pm when you are dropped off.
Alova Day Cruise just includes visit caves and activities on board
Their service is great, they are reviewed to have nice and helpful staff and the cruise itself is in good condition. However, their itinerary for Halong Bay one day cruise tour is quite lacking of activities because it just includes visit caves and activities on board, and you have to pay extra to get kayaking.
Phoenix Day Cruise can host up to 40 passengers, making a trip to the highlighted parts of Halong Bay in its compact 4-hour cruising adventures such as Incense Burner grotto and Heavenly Cave. Reasonable price and attentive tour guide are the factors for Phoenix Cruise's today popularity.
Relaxing on the topdeck of Phoenix Cruise after a long day discover Halong Bay
Their itinerary includes transfer round trip Hanoi – Halong – Hanoi by minibus, touring in Halong Bay, lunch with seafood and English speaking guide. They are known as one of the most popular tour providers in Halong Bay and their one day cruise is highly recommended.
Orchid is the newest day cruise departing from Hai Phong. Featuring luxurious decoration, Orchid cruise offers outstanding service and activities. Unlike the other, Orchid Day Cruise offers Lan Ha Bay tours.
Their itinerary includes kayaking, lunch and visiting caves and other areas. Their meals are delicious and the cruise is in good condition.
Kayaking is an amazing activity which included in the itinerary of Orchid Day Cruise
Currently one of the best day cruises in Halong Bay featuring wooden paneled junk, L'Azalée offers a memorable and luxury day trip for its travelers. You will enjoy a 4-hour cruise trip that visits caves and grottos, as well as the fine dining offered on board.
You will have a chance to visit a floating village where the fishermen live if you choose L'Azalée Day Cruise
The vessel is retouched with colorful pillows and cushions, on the background of white furniture and chic wall deco. Cruise departs daily and maximum capacity is 40 passengers.
The tour includes visiting most appealing parts of Halong Bay: Fighting Cocks island, Incense Island, Ba Hang floating village and Paradise Cave. However, you won't have a chance to enjoy kayaking and other activities.
That is all of our recommendations for your Halong Bay one day cruise trip. We hope that you find this helpful and will have the best trip to Vietnam.

If you want more information or have further question, please contact us, the AZ Local Trip team. We are always at your service!