Sapa might be a small place, but this does not mean it is not worth visiting. In fact, this region actually has just as many well-known tourist attractions as any cosmopolitan city in Vietnam. And Cat Cat Village, a lovely village located in Muong Hoa Valley, is one of those.
In this article, we will reveal to you the best things about Cat Cat as well as all the enjoyable activities you can take part in once you are there. So, make sure to stick around!
What Makes Cat Cat Village Become Charming?
As an antique village of ethnic minorities in the mountainous regions in northern Vietnam, Cat Cat possesses a variety of traits that turn it into a must-visit destination of Sapa. And the one topping that list is, without a doubt, its rustic, picturesque beauty.
Cat Cat Village's breathtaking scenery
Among the elements contributing the most to Cat Cat's jaw-dropping landscapes, Sapa terraced rice fields are perhaps the most iconic ones. Everywhere you go, as long as you are still in the village, you can feast your eyes on the lush green rice paddies etched into the slopes of mountains like gorgeous staircases crafted by mother nature.
What's more, when the rice ripe, the terraced fields will turn into a stunning shade of gold, making the mountains of Cat Cat Village look as though they have been gold-plated. A truly majestic sight. Trust me, just one look, and you can never take your eyes off them.
Apart from the infamous paddy fields, you can also relish the pristine and rustic sight of the village, such as the imposing hills and mountains encompassing everything, the astounding water wheels, the frugal wooden houses where the ethnic locals reside in, and Cat Cat waterfall whose beauty can steal your breath away.
The Unique Culture of The Ethnic Locals in Cat Cat Village Sapa
Cat Cat Village, like many other Sapa villages, is home to several ethnic minorities, especially the Hmong people. So, once you visit this place, you can easily spot their distinctive traits every here and there. What's more, you can even see some of their daily activities with your own eyes.
Coming to Cat Cat is a great chance to learn about the ethnic minorities
For example, residents of Cat Cat Village earn their living by farming and handicraft. Therefore, it is not rare to see them working in the rice paddies in the early hours. You can set aside some time to observe the way they work. It is really fascinating.
In addition, several women here are adept in weaving as well as dyeing fabric. You can catch sight of them doing so and observe their technique right on your path. This is their way of making money for their family, so, of course, you can always ask to buy their woven fabric if you like.
Another thing about Cat Cat that we believe you will find interesting is the way the villagers dress. You see, most of them are from the Hmong ethnic group. And the tradition of wearing their traditional ensembles has been preserved over the centuries.
This means, you will get to see men, women, and even children walking around, dressing in exceedingly exquisite and stunning outfits. Sometimes, you will even have to remind yourself that what those people have on is 100% woven and embroidered by hands. Why? Well, because they look so much like clothes sold in high-end stores!
In addition, some villagers put a few outfits like that up for rent. If you feel like dressing up as a local, do not forget to give this a try.
>> CLICK THE BUTTON BELOW AND GET A ITINERARY AT NO COST!!!
Things to Do In Cat Cat Village
Your trip will not be completed without giving these activities a shot!
Truth be told, Cat Cat is kind of quiet and solitude. So, the activities for you to actually take part in are quite limited. But hey, this is a small village amid the wilderness, what do you even expect?
So, if you truly want to visit this lovely and peaceful place, here is a list of things that you can do to enjoy yourself:
Trekking
In Vietnam, Sapa is known as a premier trekking base that is gaining in popularity day by day. So, if you have a chance to visit Cat Cat, make sure to try out this exciting activity that many young people take delight in!
>> Find out more information: Sapa Trekking – An experience like none other!
Contemplate Cat Cat waterfall 
Cat Cat waterfall found by French people is among the main attractions of the village. Stopping by it and dip your hands in the cool water can be a great way to refresh yourself.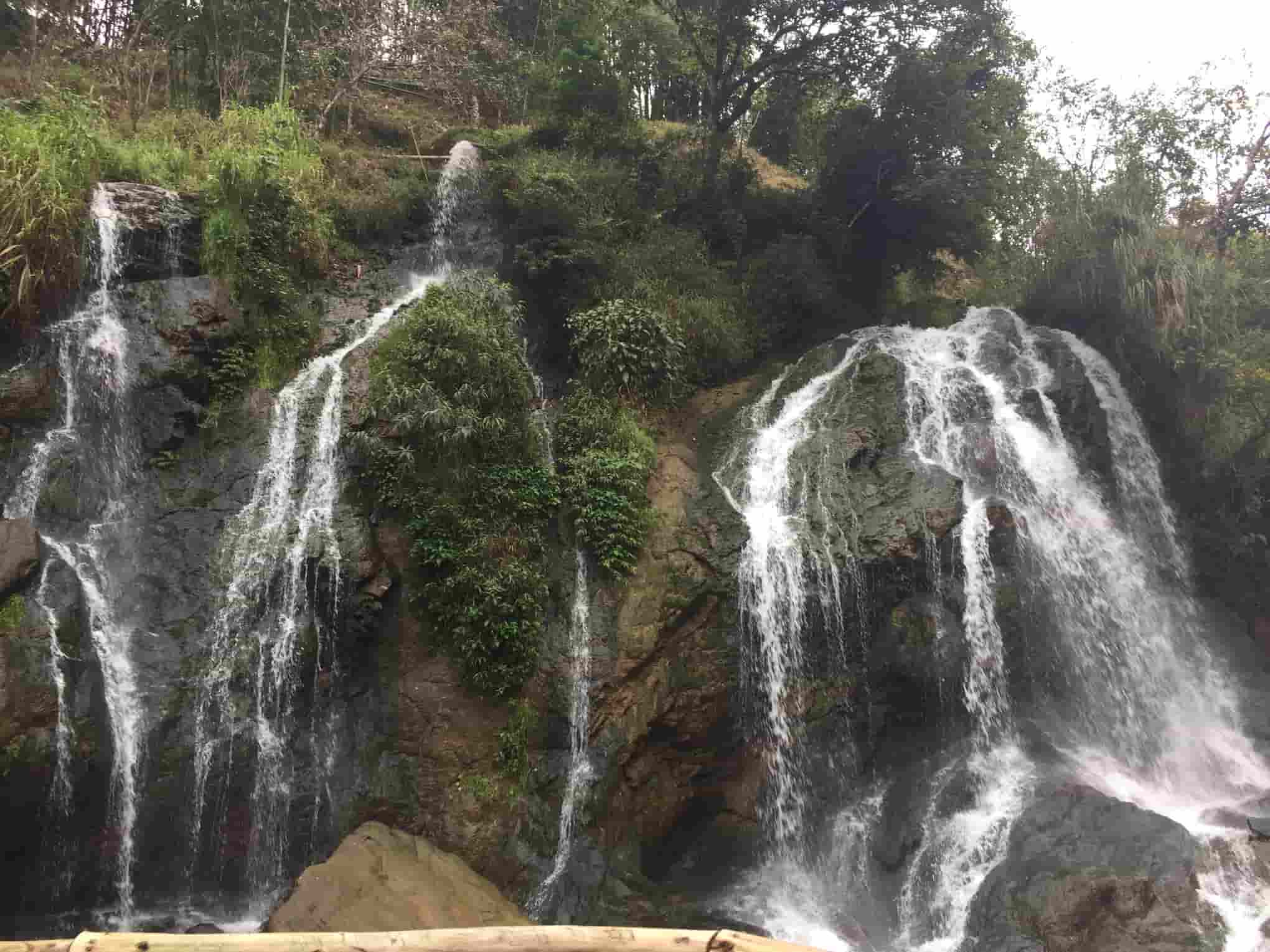 There is an interesting fact, which tells that Cat Cat village is named after this magnificent waterfall!
Shopping around
When wandering around Cat Cat, you will realize that almost all of families here are shopping stores. They sell everything you need, from colorful clothes to fresh fruits.
Plus, not only can you get beautiful brocade and handcrafted jewelry, but you can also sample some delicious Sapa food here.
Take pictures with the water wheels
Water wheels are a special cultural trait of the ethnic minorities in Cat Cat. They have many uses, play an important role in the life of the residents. So make sure that you do not miss them out on your trip.
A piece of advice, when visiting the village, you should hire a local guide. They understand the region as well as the customs and practices more than anyone else, and they know exactly what to do to spice up your trip.
This will not cost much, and yet, you can get explanations on many things about the villagers' culture, such as the lush green rice field and why they have to look like staircases, the real functions of the water wheels, and several other things about their life.
>> CHECK OUT THE BEST SAPA TOURS TO GET A REMARKABLE TRIP!
Cat Cat Village in Sapa and what you need to know
Now that you have known about all the interesting parts of Cat Cat, let's move on to the must-know information before you sign up for a tour.
Basic information
Opening hours – Cat Cat Village opens at 5 in the morning, quite early if you ask me, and closes at 10 in the evening. So, remember to keep an eye on the time and return to your hotel before it is too late.
Entrance fee – For the time being, you will have to pay about $4 (90,000 VND) in order to get access to the village. Still, this may increase in the future.
Best time to visit Cat Cat
You can come to Cat Cat Village at any time you prefer. The village's beauty changes according to the season and the climate, so no matter when you go, you can still feast your eyes on the exotic beauty of the landscapes.
But we think you should get there between March and November. The weather will be more pleasant in this time range, and you will not have to put up with sudden rain, end up getting wet and have your trip ruined.
Especially, September is the harvest season of Sapa rice terraces. Coming to Cat Cat at that time, you will find your heart melted gently when contemplating the golden fields stretching to the horizon.
>>> More detailed in: Best Time To Visit Sapa Vietnam – For Your Best Travel Experience!
Local guide for tourists
If you intend to visit Cat Cat any time soon, keep these travel tips in mind:
Sapa is not only famous for its beauty but also its cold atmosphere. So, do not forget to bring along some warm clothes
Keep an eye on your personal stuff, pickpocket is a common problem that tourists often face when visiting the villages in Sapa Vietnam
You should consider hiring a tour guide if you do not have one with you in the first place. Aside from showing you the great places to visit, they can also let you know about the unsafe spots that you should avoid.
Do not let yourself fall victim to scams and rip-offs. Ask your tour guide to assist you in buying souvenirs or food, or a friend that has visited Cat Cat Village before
Savoring the delicacy in the village is a must, but please avoid eating too much. However, your digestive system might not be used for the food made by the locals, which can result in food intolerance.
The Bottom Line
We have already shared with you what We know about going for a tour of Cat Cat Village. We hope you find my article interesting.
Of course, these are just my ideas and recommendations. If you have already got your intentions, feel free to stick to it. We will really appreciate if you decide to follow our guideline though.
Anyway, just leave a comment below if you have any questions. Goodbye, and thanks for reading!